Wow it's been awhile since I've had a chance to talk. I've had problems getting my hands on a computer to reach out to you and therefore have been slacking on the posts. Things have been slightly busier for me now that I'm working and keeping busy. I spent the weekend trying to catch up on some R&R to kick this cold that I've had for over a week now. I watched some movies, listened to music, read BOOKS, and whatever else. It's Tuesday and I only have a few more hours till the end of the day. It's been kind of a slow day for me here... there's not too much for me to do in shipping or anything (that's where I was posted yesterday). I've walked through a few times asking the manager if he needs any help and so here we are. I ran some numbers and got some quotes and proposals for my current project and spent my morning doing that. It's not too bad right now, most of the staff is really pre-occupied about the "move" and "merger" so there's a lot of heresay and chattering going around. Enough about work though - that's the boring stuff...
My friends from NYC are coming down to Baltimore this weekend and I'm real excite for it!! I haven't seen them in awhile and it's their first time down to my new digs so it should be pretty out of control. The weather is supposed to be nice on Saturday so I'm thinkinggggg rooftop partayyyyy!!!!! Mannnn it's going to be funnnn. Then the following weekend Suz is coming down for the weekend, or atleast for her weekend and I'm really looking forward to that too...
I got my government refund from my taxes!!! Good news there. It's helping me pay for some bills and lower my CC debt. I'm thinking/hoping I'll be able to knock out all of my CC debt within the next couple months. I'm going to keep putting everything towards getting rid of that so I don't have it hanging over my head and snowballing. Once I get that together I need to start paying back some of the $$ I owe my parents and get my macbook. Hopefully this all will be taking place in not toooooo long.
I must apologize this [tomorrow never knows] blog has been quite boring as of late. I promise once I get my macbook this shiz will be the shiz. Well I don't know about that but I will be able to do so much more with it, whenever I want!!
It's so nice to have Winter just about behind us and the Spring Sun in our faces. You know what that means.......
- Flip Flops
- The beach! The ocean!
- Concerts
- a tan
- drinking outside in the hot hot afternoon :)
- Road trips (hopefully - first on my list is Boston!)
- keeping my window open at night while I sleep
- girls in skirts, and summerish clothes
- being light out till 9pm!
- what else do you look forward to???
- it just makes you feel better...
...about life, about being alive, existing in general.
it's those little things that make me happy.
I am going to hang out in New York a lot too [on the wknds].
Ohhhhh I almost forgot to tell you! Have you seen Nick & Norahs infinite playlist?? Dude guess what!! Well the whole movie takes place in New York City and revolves around music. Well there is this artist that is relaly rare to see live and it's rumoured that they're playing in the city somewhere but no one knows where. At one point they think it might be at Brooklyn Pool and I was like thinking to myself, I used to hang out in Union Pool all the time. Like every Friday night I was at the pool, well that's exactly the place they were talking about!!! That whole scene took place at union pool where I used to chill all the time, I'd spent a bunch of time in the room that it was filmed in. Hahaha it doesn't sound that exciting on here but for me in my head it was really exciting.. check it out:
well I can't really find any specific pics that show off that scene, I think this one may be from that scene in the pool but I don't know, but this is from the movie...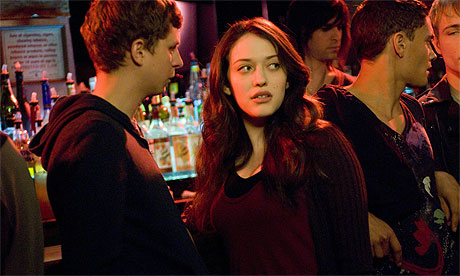 Anywayz if you like music, the city, or just this type of "indie" movie and music feel, you should totally see it. And Michael Cera is always awesome so I recommend it.
Well I need to get going
hopefully TTYS